Textiles make a home
Map, 2015. Private home commission. Weft-faced ikat tapestry.
Wrapped dyed and woven wool, silk/bamboo on linen warp.
latest news
Mary Zicafoose: Midway Film Release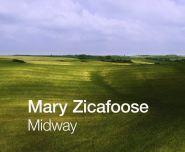 The long-awaited documentary film about Mary's life and career has been released. Director Jeffrey Hahn combines the testimony of Mary's peers and friends, with the narrative of her artist's journey, to recount a colorful exploration of the virtuoso, teacher, and woman that is Mary Zicafoose.
---
Ikat Book Holiday Sale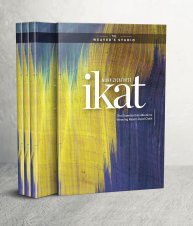 Mary's new book, Ikat: The Essential Guide to Weaving Resist-Dyed Cloth was released by Penguin Random House this month. This inspirational book features both natural and synthetic dye formulas and processes, in addition to instructional ikat projects.
---
Mary Receives DAR National Women in the Arts Recognition Award
The Lewis-Clark Chapter of the Daughters of the American Revolution in Nebraska nominated Mary to be the 2020 national recipient of the DAR National Women in the Arts Recognition Award which she received on April 27th at a private reception held at the May Museum in Fremont, NE. 
2020 Bemis Benefit Art Auction Limited Edition Prints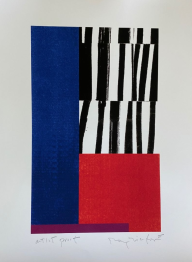 The 2020 Bemis Benefit Art Auction Exhibition is now open to the public. The Bemis Center has commissioned Mary to create a limited edition silkscreen print, available for purchase now.

Visit the auction website to purchase your print.
---
Schacht Spindle interviews Mary for Spinning & Weaving Week

Jane Patrick of Schacht Spindle Company interviews Mary in a segment "The World is Begging to Become a More Beautiful Place".
---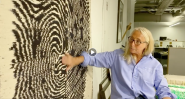 The Museum of Nebraska Art (MONA) asked artists from the museum's collection to create a short video about their workspace to share during the COVID-19 pandemic. Come along and join the studio tour!
---
New Tapestry Installation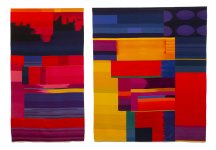 Mary's recently completed ikat diptych tapestry was installed at the Susan Thompson Buffett Foundation. The massively scaled Pink and Yellow Tapestries were commissioned to enhance the warmth and vitality of the foundation's lobby.
---
Mary Receives NAC Individual Artist Fellowship Award
The Nebraska Arts Council's Individual Artist Fellowship program recognizes exemplary work by Nebraska artists and provides support through public recognition and monetary awards. The program rotates annually, highlighting different artistic disciplines each year. Mary, along with eight other artists were chosen to receive this 2019 grant for visual arts.
---
NET Television Interviews Mary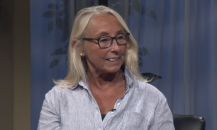 Consider This with Cathy Wyatt interviewed Mary for an episode about the UNMC Healing Arts program. View the episode here.
---
Great Plains Textile Center's Founding Board of Directors
To help launch the newly formed Great Plains Textile Center, Mary will serve as an adviser to the board of directors. The center's mission is to provide instruction, inspiration, equipment and materials to ignite textile arts within our community.
---
Omaha Magazine Feature's Mary and Her Work at the Buffett Cancer Center
In the September/October 2017 issue of Omaha Magazine, Kim Reiner interviewed Mary about her massive installation at UNMC's Buffett Cancer Center lobby. Visit their website to read the article.
---
Hope and Healing Tapestries Receive Best OEAA Public Art Award for 2017
In February, Mary was honored to receive the OEAA award for Best Public Art from the Omaha Arts and Entertainment Awards.

Visit the OEA website.
---
Nebraska Cultural Endowment Blog Features Mary's Perspective on Her Career
The blog of the Nebraska Cultural Endowment featured an article about Mary's introduction to textiles. Read her narrative on the What's Your Livelihood blog.
---
Follow Mary on Facebook
To see what's new and happening in the Mary Zicafoose Textiles studio, "Like" the Mary Zicafoose Textile Facebook page.
events schedule 
September 10, 2020
Ikat: The Essential Handbook to Weaving Resist-Dyed Cloth
Book Release
Order your copy today!
May 7-August 1, 2021
2021 Nebraska Artist Biennial
1516 Gallery, Omaha
June 24-27, 2021
Virtual Conference
The Shifted Warp Ikat Scarf, Three Day workshop
MidAtlantic Fiber Association 2021 Conference
Millersville University, Millersville, Pennsylvania
July 9-Aug 28, 2021
Out of Place, Out of Bounds: An International Exhibition of Fiber
Artworks Center for Contemporary Art
Loveland, CO
July 31-September 12, 2021
Fiber Arts X, International Contemporary Textile Exhibition
Sebastopol Center for the Arts
Sebastopol, CA
Opening Reception: July 31, 1-3 pm
September 14, 2021
Ikat: Notes from the Field, lecture-in person
Handweavers of Buck County, PA
September 14-16, 2021
Ikat Workshop - in person
Handweavers of Buck County, PA
November 18-20, 2021
Contemporary Handweavers of Houston
The Shifted Warp Ikat Scarf Workshop
November 18, 2021
Contemporary Handweavers of Houston
Keynote Lecture
March 21, 2022
Rocky Mountain Weavers Guild program
Ikat: A Global Story of Exotic Cloth
March 19, 20 and 22, 2022
Rocky Mountain Weavers Guild workshop
The Shifted Warp Ikat Scarf
Denver contact: Nicki Scheurwater, nscheurwater@msn.com

April 12, 2022
Illinois Prairie Weaver's Guild
The Shifted Warp Ikat Scarf Workshop

May 20-22, 2022
Conference of Northern California Handweavers
San Mateo Marriott, San Mateo, California
The Shifted Warp Ikat Scarf Workshop
contact: cnchprogramchair2022@gmail.com
June 3-5, 2022
Shifted Warp Ikat Scarf
Weaving Indiana
June 17-19, 2022
Color Workshop
Sanborn Mills Farm, NH
July 15-21, 2022
Convergence International Weaver's Conference
The Shifted Warp Ikat Scarf Three Day Workshop
Knoxville, TN

Spring 2022 (TBA)
Jane Carney + Mary Zicafoose: Double Vision
Hammes Gallery
St. Marys College
Notre Dame, IN