Ikat Ready for the Dye
Mary holding the wrapped Ikat for her work for the 13th International Tapestry Triennial.
latest news
Follow Mary on Facebook
To see what's new and happening in the Mary Zicafoose Textiles studio, "Like" the Mary Zicafoose Textile Facebook page.
---
Read Mary's Designer Profile in Omaha HOME Magazine
The March-April issue of Omaha HOME Magazine interviews Mary for a Q&A session as their featured artist. You can browse the article on their on-line reader.
---
See Mary's recent Art In Embassies (AIE) contribution to the display in Bangui, CAR
The AIE program helps artists from the United States create cultural connections around the world through the visual arts. Mary has works on display in Baku, Azerbaijan; Bandar Seri Begawan, Brunei; Bangui, Central African Republic; Quito, Ecuador; Accra, Ghana; Jakarta, Indonesia; Almaty, Kazakhstan; Vilnius, Lithuania; Bangkok, Thailand; Colombo, Sri Lanka; and Sanaa, Yemen. Mary recently had her 1994 tapestry Three New Moons for Jupiter added to the collection at Bangui, Central African Republic.
See an overview of all of Mary's AIE works on display on her AIE artist profile.
---
Mary Visits Nepal with RugMark/GoodWeave USA
As RugMark/GoodWeave USA board members, Mary Zicafoose and Sara Goodman tour Nepal, visiting child-labor-free carpet factories and social programs.Watch the video below.
---
mary joins the UNION for contemporary art board
Mary has committed to the board of directors of the newly formed UNION for Contemporary Art in Omaha, Nebraska. The Union's mission is to strengthen the creative culture of Greater Omaha. In addition to serving local non-profits, Mary also serves nationally and internationally as the co-director of the American Tapestry Alliance, and is an immediate past board member of GoodWeave USA.
carpeting the contemporary world
American Design and Tibetan Craftsmanship
Mary is expanding her textile line to include the production of her designs as exquisite, contemporary hand-knotted carpets.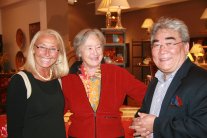 A reception to meet Mary and celebrate the unveiling of these stunning new designs was held on November 11, 2011 at Khawachen Showroom in Hanover, NH.
Photo on left: Mary, Sheila Swett, and Kesang Tashi, owner of InnerAsia Rugs.
---
events schedule
April 4
Cincinnati Weavers Guild lecture: "The Power of Cloth",
April 5, 9 AM - 4 PM: A Day of Dyeing workshop
April 6-7, 9AM - 4 PM: Two-Day Rug Weaving Intensive
Contact: Cheryl Muckenfuss, muckenck@yahoo.com
April 7-May 31, 2013
Mountains & Ghosts: New Tapestries/New Prints
Sunderland Gallery
Cathedral Arts Project/Saint Cecilia Cathedral
Omaha, NE
Reception without artist, Sunday April 7, 1 PM - 3 PM,
Reception with artist, April 14th, 1 PM - 3PM
April 2 & 7
University of Nebraska-Omaha,
Deptartment of Art History Lectures,
contact: Shari Hofschire,shofschire@mail.unomaha.edu
April 18-20, 2013
Three Workshops for Tapestry: Design, Color & Inspiration Quinlan Visual Arts Center, Gainesville, GA TWS: Tapestry Weavers South Contact: Nancy Dugger, njdugger@bellsouth.net
May 15, 16,17, 2013
Ikat for Small Format Masterpieces
(Wed-Fri) 9:30 AM to 4:30 PM
Pacific Textile Arts, Fort Bragg, CA
contact: Lolli Jacobsen, jacobsen.lolli@gmail.com
November 22, 2013-January 2014
"Interweaving Cultures: The Meeting" exhibition
Peter Gray Museum of Art, Puerto Vallarta, Mexico
December 16, 2013
Mountains with Ghosts: New Tapestries & Prints,
complete exhibition
The Robert Hillestad Textile Gallery,
University of Nebraska-Lincoln
Opening reception: TBA
contact: Wendy Weiss, wweiss1@unl.edu
---
workshops
See a list of Mary's upcoming workshops
---
galleries
The Bemis Center for Contemporary Arts
724 South 12th Street
Omaha, NE 68102
Gallery 72
1806 Vinton Street
Omaha, NE 68108
402.496.4797
Anderson O'Brien Fine Art
1108 Jackson Street
Omaha, NE 68102
402.884.0911
Michigan Artists Gallery
309 N. St. Joseph
PO Box 272
Suttons Bay, MI 49682
231.271.4922